During National Careers Week and on International Women's Day, we're taking a look at inspiring individuals who have the 'Kings Factor' – the values that drives us, the common thread in all our work, our DNA.
How do we recognise the Kings Factor in our Red Tops?
Committed to giving children a great experience
Youthful, full of energy, role models
Actively coaching
Kacey-Mai Harris has only been working on Kings Camps for a year, but in that time, she's made such an impact on our Cardiff camp, rising from her initial role as a Key Stage One Coach, to Site Manager!
The 25-year-old from the Welsh town of Aberbargoed has proved a real hit with children and parents alike, embracing the fun, energetic nature of life on Kings Camps.
During her time on Camp, Kacey-Mai has stepped up to Assistant Site Manager and during our last Camp in February, went one step further to Site Manager – a role she'll continue to do in just over four weeks time, when Easter camps begin.
Speaking about her short, but busy, time at Kings – Kacey-Mai said "When I first joined Kings Camps, I was excited to fill my summer with some meaning. Little did I know I was about to embark on the best summer I've had in a long time!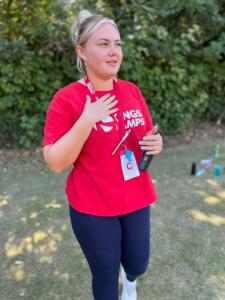 "I met some amazing people and connected with so many inspiring coaches! My day-to-day revolved around fun, creativity & sports, what more could you ask for!
"An opportunity for Assistant Site Manager was open and I took the leap after observing strong leadership & guidance from the Site Manager Charlotte. It is hands down the best thing I've done!
"Kings staff are so supportive and truly believe in you, which was exactly what I needed during my first few days as Assistant Manager.
"With their continued support I've now progressed in to the Site Manager for Cardiff camp! It's a real milestone in my career that I'll always be proud of, regional support and Head Office have been amazing throughout my employment with Kings.
"My colleagues think that I'm crazy for working through half terms & summer holidays, but when I share my experiences they're always asking where to sign up!
"I can't thank Kings enough for their continued commitment & trust they have within me, I'm so excited for Easter camp to begin!"
If you're based in and around Cardiff and want to join Kacey-Mai on Camp, or have been inspired by her story and want to find out more about working on Kings Camps during the holidays, visit our Work With Us page, Or connect with us on Linked In, Instagram or Facebook