Meet Charlotte: from student to teacher, from multi-sports coach to regional manager.
In the Summer of 2018, University student Charlotte Slye had begun her journey into teaching – but in order to become classroom ready, needed some first-hand experience working with younger children; step forward Kings Camps to help her on her way.
Charlotte found out about Kings Camps at a University Careers fair and after a successful interview, joined our Cardiff camp in the role of Multi-Sports Coach, it's here where she gained the valuable experience she needed.
Initially taken on as a summer job, Charlotte enjoyed the experience so much that when the opportunity came around to work with Kings Camps again, she grabbed it with both hands – a process she'd repeat for three years until the Coronavirus pandemic hit and the world shut down.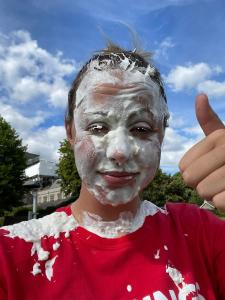 Reflecting on her early years with Kings Camps, Charlotte said "It's quite a weird feeling when I think about it, I don't think five years ago I'd have considered working on a Camp every time the opportunity came around, but once you've experienced the camp and the Kings Factor, there's no turning back!
"I always felt it would just be a university job, I never thought it would go beyond that but now, I wouldn't have summer any other way!"
When Kings Camps were given the green light to be fully operational again in the summer of 2021, Charlotte returned and was given more responsibility, stepping up to Assistant Site Manager, before being made Site Manager last summer.
Fast forward to 2023 and Charlotte is now a fully qualified PE teacher, working in a Secondary School, however she believes if it hadn't been for the experience gained on Kings Camps, her career may have gone in a different direction.
"I fully qualified last summer and Kings Camps had a massive impact on that achievement. My work placements came during Covid so the majority was done online, meaning I didn't get that "classroom confidence" – if anything I felt unqualified.
"Stepping up to Site Manager was a huge opportunity for me which, after a year teaching secondary, I'm so grateful for. It was the best thing for me, both from a confidence and practical perspective.
"My PCGE taught me how to teach, but Kings Camps gave me the confidence to do it. At Kings you get the chance to coach multiple sports and learn from your peers who may have experience coaching different sports, I've definitely been able to take their ideas and techniques into my day job"
With Easter just around the corner, Charlotte is ready to take on another new challenge – making the step-up to Regional Manager, meaning for the first time in five years, she'll be saying goodbye to her beloved Cardiff Camp
"I'm so excited to take on the new challenge and humbled to be offered the opportunity, all I've known is how Cardiff runs so I'm eager to see how other camps operate, share ideas and hopefully help fellow Red Tops bring the best out of themselves.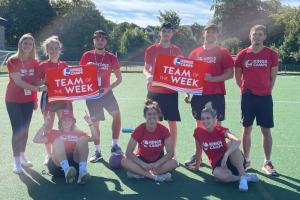 I get asked all the time by my work colleagues what I'm doing in the break, when I say "working" they think I'm barking mad – but I just smile and tell them all about Kings Camps and that it's so much more than what you think.
I'd encourage any teacher, sports coach or student to get involved – obviously it's great to get that extra pay, but again it's the things you can't put a price on that matter the most – you gain confidence, experience with a variety of sports and ages, the opportunity to network and make new friends, not to mention – an all-round enjoyable experience"
If you want to join Kings Camps, we have opportunities available across the UK throughout Easter, half-term and summer school holidays, with a limited number of roles avaible this Easter. Read more information about our roles here, or click here to apply.
Our recruitment team love speaking to you, give them a call on 0114 263 2155.