Inspiring Kings Camps
If you're looking for a children's holiday programme, you can't beat Kings Camps. We're active, fun and safe, and our programmes appeal to every child, sporty or not. We know our programmes work because families return year after year to be part of the unique Kings experience.
Caring Kings Camps
When your child joins us we'll ensure they receive a warm welcome. Our Red Tops really care about every child and they'll give it their all to ensure children have fun and make friends which means you can relax in the knowledge that your child is active, happy and safe.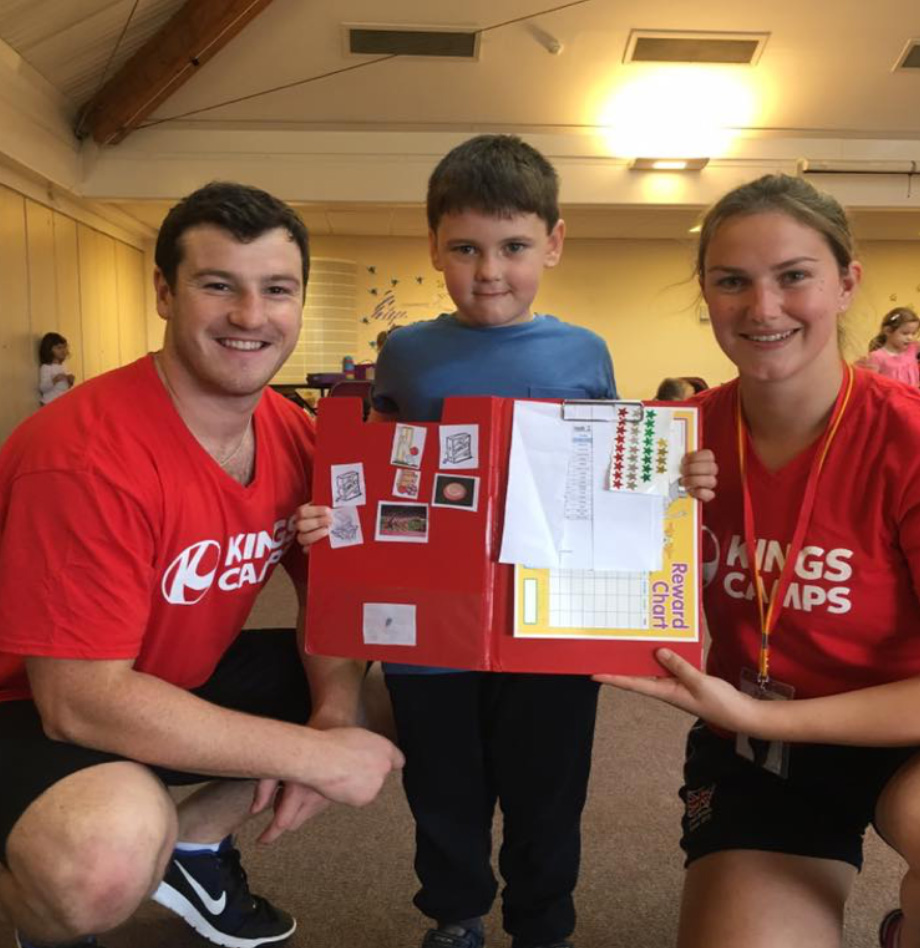 Discover Jordan's exciting journey with us
"When Jordan first joined us on camp he was having difficulties forming relationships, a sure sign that a child is uncomfortable or nervous. Jordan needed lots of positive attention and understanding, something we're experts in. We worked closely with Jordan to help him adjust to life on camp and by day three he had formed a solid bond with our coaches. It was lovely to see him come out of his shell, even better to see him having the time of his life.
We helped Jordan grow his confidence with a proven, planned routine. He had come along in leaps and bounds, so confident that he fast became a role model for the younger children, helping them whenever he could. The smile on Jordan's face at the end of camp said it all."
Schools Community
We're committed to helping 2 million children by 2020, not just on camps, but at schools and events across the country. We provide active play sessions throughout the UK, instilling the passion to get active from an early age.

We place high value in listening to parents, learning what's best for children and constantly improving our work. Independent Feefo parent reviews help us to do exactly that and they make our work transparent. Our parent satisfaction rating has never fallen below 95%; this has led to us being awarded Gold Trusted Merchant status; we don't always get it right but we do act swiftly if there's any aspect of our work that needs to improve.
Feefo – 100% genuine children's services reviews
Unlike Tripadvisor and Google Reviews, we use Feefo, a closed invitation-only platform and only genuine members can write a review about Kings Camps.
The children always have a good time, so much so, that my son often complains when I pick him up at the end of the day!
Unfailingly positive and supportive environment. My son's first experience of Rookie camp, having been regular KC attendee over the years. He couldn't have enjoyed it more, relishing the additional challenges
Kings Camp is the best children's club my daughter has been to. The staff were exceptionally welcoming and took the time to engage with her on arrival which was reassuring. Elena loved the staff and games even though she isn't particularly sporty. I picked her up each day with a big smile on her face and she's still talking about it weeks later
Child-focused, fun-focused, relevant, interactive and highly active; varied, non-stop, jam-packed; driven by professional, energetic, engaging, caring leaders – my son and daughter absolutely loved it and therefore so did I! Everything you'd hope a fun camp for kids to be. When given the choice of this for the Summer versus other options (already experienced), it was a resounding "Kings Camp!!!!" . Easy