Our brand is very important to us, and as a Red Top you are an ambassador for our work.
We want you to take pride in your appearance. Your uniform isn't designed to win fashion awards, but it is fit for purpose – it will enable you to represent our brand and actively coach.
We expect all staff to follow our uniform guidelines. Our camps are a neutral space for children and therefore you must not alter your uniform, including your lanyard and name holder, to reflect any causes that are personal to you.
As part of your onboarding process you should have selected your uniform size, if you haven't done so, please log into your profile by clicking here and open your employment contract.
Check out more information using the tabs below.
If you are new to Kings Camps, we will provide you with a full uniform set. This consists of;
1 x Jumper
3 x T-Shirts
2 x Shorts
1 x Staff Lanyard
It is your responsibility to ensure you look after your uniform, especially for future seasons as new uniform is only issued to new staff members and not returners.
If any members of staff require additional uniform, click here to place your order. Please note – this will be at your own expense.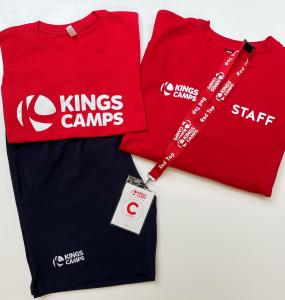 We expect staff to look presentable at all times. This means wearing clean uniform that we've provided, your lanyard so parents and children know your name, and clean trainers suitable for the activities.
If we have adverse weather (hot, cold, wet) you are welcome to wear a baseball cap, or sunglasses, or jacket, but these must be removed when indoors.
If you are unsure or have any questions around what you can wear, please speak with your Site Manager or email the operations team – operations@kingsfoundation.org
If you would like to wear tracksuit bottoms or leggings you may do so, but they must be plain navy blue only. You are NOT able to wear black or heavily branded tracksuit bottoms or leggings.
Remember that you are representing Kings Camps at all times when wearing our uniform and therefore should consider your conduct. You should not be smoking, drinking alcohol or taking part in activities outside of your job responsibilities whilst wearing uniform.
Should your Site Manager, Regional Manager or member of Head Office have concerns about your uniform standards, you will be expected to rectify this immediately and where necessary at your own cost.
Your uniform will be sent directly to your venue for you to collect on your Induction Day. If you are not present at your Induction Day, it will be available on your first day of camp.
If you require any additional items before camp, you should request this two weeks before camp begins. After this time, we cannot guarantee that it will get to you on time.
If you require any additional items during camp, ask your Regional Manager or the Operations Team and we will do our best to get it to you.