The things your child will need on camp
A packed lunch and snack for break-time in an insulated container with a frozen ice pack (but no nuts allowed on camp).

A refillable water bottle with your child's name on it

Clothing for sports activities

Trainers or shoes for general sports, ideally with non-marking soles

Swimming kit (confirm there's a pool at your chosen venue). Please note; provided swim caps and armbands may contain latex.

A change of clothes on Wednesday's, when we play water games
Your child won't need:
Mobile phone – must not be brought to or used on camp. Where necessary, they should be kept in bags until the end of the day

Sports equipment – we've got plenty!

Money – we don't provide tuck shops

Gadgets – it's a screen free week

Valuables such as expensive watches and non-essential jewellery

Securely Checking Your Child In & Out
Before you arrive on camp you should log in to your account and check your child's details to ensure we have all of the information we need to keep them safe on camp.
To check your child in and out you must have your unique membership number. A card will be sent to you in the post, however if you haven't received it in time for the start of camp, a digital membership card can be found in your account.
A typical day on camp
No camp and no day on camp are ever the same. Our coaches plan daily schedules based on the weather, the available facilities and the number of children on camp that day. However, each day does follow a similar structure:
First Thing
8.15am. 'Plus' and Short Week hours begin at 8.15am and offer parents flexible drop off times. We have chill-out zones for those who take a little time to get going and a selection of sports children who can't wait to get active!
Morning
9.30am. After standard registration, which takes place between 9-9.30am, the day begins with a whole camp warm up and a reminder of essential rules. Children are then split into age-groups to begin a morning of amazing activities with their coach, split with a break. For children registered on Football or Cricket Kings, their sport-specific sessions will begin after the warm-up.
Lunch
12.40pm. Lunch times at Kings are supervised and fun. After eating a healthy packed lunch you've lovingly prepared, lunch time is an opportunity for children to chill-out and get involved in the whole-camp lunch time challenge.
Afternoon
1.15pm. Afternoons include whole camp activities and lots of group sports and active games. Red tops can throw-in some quieter and less energetic activities for groups that are finding the pace a little too high.
End Of Afternoon
4pm. At the end of the day coaches award one child from their group 'Star of the Day'. Coaches also share any notices and remind children to check lost property. Parents can collect from this time.
Extended Afternoon
4pm-5.45pm. Children registered for 'plus' and Short Weeks can choose how they want to enjoy the rest of their day. Activity stations, from sports to warm-down games and crafts, are set up. Parents can collect anytime up to 5.45pm.
Our ratios
As Ofsted's guidelines say, child safety depends on a good child-to-staff ratio. That's why we follow Ofsted's recommendations for every camp we run: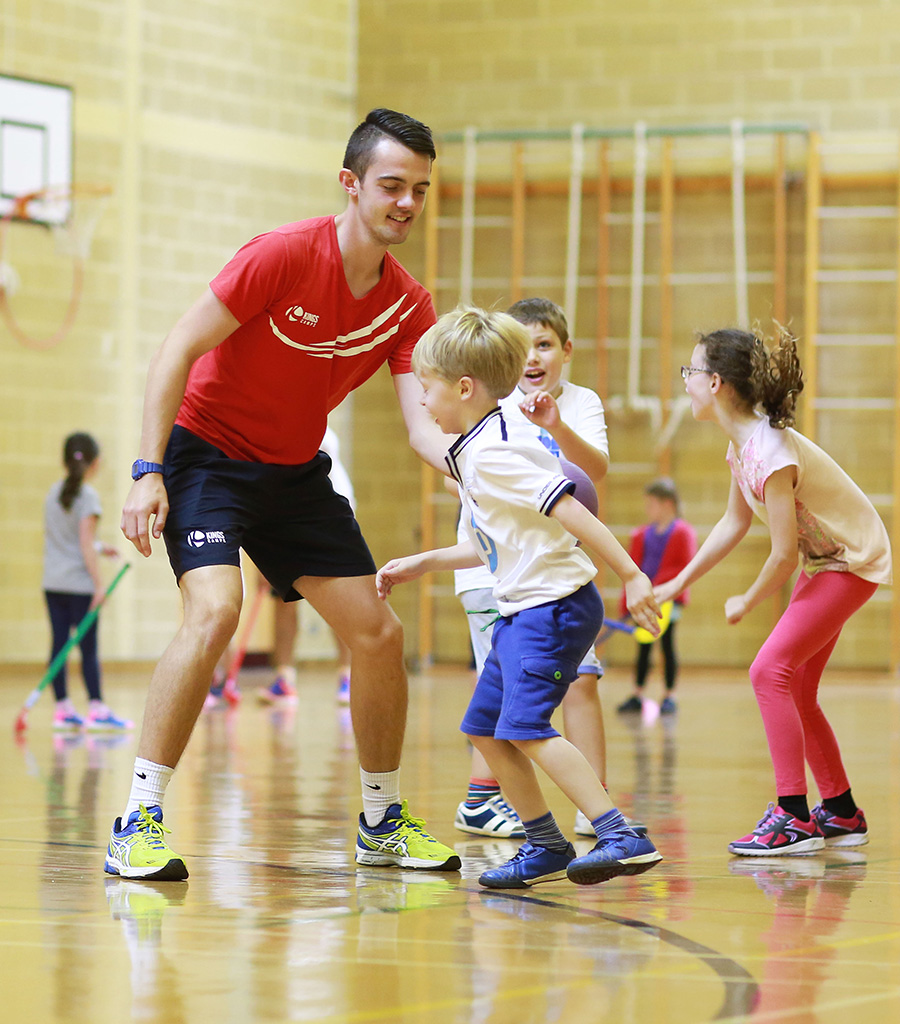 Aged
5
For children aged five, we insist on a ratio of just 8 children per staff member
Under
6-7
For kids aged 6-7 we have one staff member per 16 children
Ages
8+
For kids aged 8 or over, we have one staff member per 20 children
Booking and making amendments
Do you accept childcare vouchers?
Yes, we accept all childcare vouchers in England – Click here for more information.
Can I pay in instalments?
Absolutely. If you book more than 2 months in advance we can set up a monthly payment plan for you.
How do I find my closest camp?
Click here for our venues and locations (or for our military camps click here)
Can I make changes to my booking?
Yes, you can call us to change the programme of the dates your child is attending, providing this is a minimum of 24 hours before your child's first day. Click here for our cancellation terms and conditions.
I'm new to Kings Camps and don't want to commit to three days
For parents and children who are new to camp, we offer taster sessions each Thursday (or Wednesday where it is a 4 day week). This is an amazing opportunity to meet our Red Tops, see our facilities and get involved in a session. Taster mornings take place every Thursday and cost just £15.
What should I do if my child is sick or unable to attend?
If your child is sick and too unwell to attend camp, you can call our membership team on 0114 263 2160 who will be able to inform the site manager. They will also be able to advise on the best time for your child to return to camp to prevent other children becoming ill.
Can I book individual days?
From 2019 we will no longer offer individual days. Children are at the heart of everything we do. Our aim is to get the best out of every child, and we believe three days gives our experienced coaches enough time to develop their skills and instil a love of sport.
What other options are available?
You can choose from 3, 4 or 5 day packages when you book our Multi-Active and Teen Active Programmes. Three and four day packages do not require days to be consecutive. If you would like to book this programmes as morning only you must book our full-week package. Our specialist football and cricket programmes run from 9.30am – 12.40pm with the option to join Multi-Active in the afternoon. Our Rookie Academy programme must be booked for the full week.
Why can I only book 3-days or more?
As a charity, our mission is to get children active and instil a love of sport. We believe the best way to do this is to spend enough time with your child to make a meaningful difference. Our 3-day package enables children to feel a sense of belonging, build rapport with our coaching team and ensure children develop skills and confidence.
What happens on camp
Do you provide food & drink?
No. Children should bring a packed lunch and snacks for morning and afternoon breaks, in addition to a refillable drink bottle with their name on it. Please note that we have a no nuts policy on camp.
Will my child be grouped with friends?
Many children arrive not knowing other children and part of attending Kings is developing new friendships. However, we do our best accommodate friend requests made at the point of booking, prior to arriving on camp. This isn't always possible due to camp numbers and ratios.
What about outdoor activities?
As long as the weather is dry and warm, we'll be outside as much as possible. Please ensure your child has clothing and shoes for both indoor and outdoor activities.
What time can I drop off & collect my child?
If you have booked a standard day you can drop of your child at 9am and collect them at 4pm. If you have booked flexicare you can drop them off between 8.15am and 9am and collect them between 4pm and 5.45pm.
What are the swimming arrangements?
Swimming is available at most of our venues as part of our Multi-Active Programme. We aim for every child to swim at least 2-3 times per week so we recommend your child brings their swimming kit every day. Visit the venue page or call our Membership Team to check if there's a pool at your venue.
Are there any special features or themes we should be aware of?
Wet Wednesday happens every Wednesday and includes outdoor water games so remember a change of clothes! The Kings Games happen every Friday afternoon on camp, it's the perfect opportunity to see your child in action, more details will be available on camp.
Can my child choose the activities they do on camp?
Our programmes are structured to bring the best out of every child and are timetabled to make the most of the facilities, the group dynamics and of course, the weather. Our experienced coaches know exactly how to ensure children on camp get active whilst having lots of fun. Although children cannot choose activities, our range of active games means there's lots they'll love!
Safety, Security and Health
Are you Ofsted registered?
Yes, all Kings Camps in England are registered on Ofsted's voluntary register. We work closely with Ofsted to ensure we work within their helpful and proven guidelines.
What is your safeguarding policy?
Kings Camps is part of The Kings Foundation, which is committed to safeguarding and promoting the welfare of children and young people. Safer recruitment is central to the way we work and all staff and volunteers are expected to share our commitment to safeguarding, always creating an environment where young people feel safe and can thrive.
My child has a medical condition – can they still attend?
We trust that you will give us as much information as possible about any medical condition your child has before camp starts – please share full details on your account at the time of booking. All information will remain confidential with the Red Tops at your venue. Please read our Additional Needs Policy
My child has a nut allergy, can you assist?
Absolutely. All of our camps are 'Nut Free', meaning we do not allow nuts of any kind onto camp. Please speak to our membership team if your child requires an EpiPen.
What about insurance?
All of our camps have full public liability and employer's liability insurance cover giving you extra peace of mind.
What happens if my child has an accident?
Bumps and scrapes happen from time to time. Each camp has at least one first aid qualified coach who can make an assessment, deliver first aid and ensure your child is OK. A form will be completed detailing exactly what happened and the action taken and this will be discussed with you at the end of the camp day. If a more serious incident or accident occurs, we will contact your immediately. We have tried and tested policies in place to ensure your child is safe on camp: Click here to read in more detail
Policies on Bullying , Child protection, Behaviour & Complaints
We have comprehensive policies and procedures relating to bullying, child protection, behaviour and complaints. Please click here for our policies
Other questions
What age does my child need to be?
Our programmes are suitable for children who have had their 5th birthday. We have programmes suitable for children up to 17 years.
How do you select your staff?
All of our Red Tops undergo a thorough selection and preparation process including:
– Interview
– Professional and personal reference checks
– Registration and clearance with the Disclosure Barring Service (DBS) or Scotland's PVG scheme
– Online training courses
– In-person induction
– On-the-job mentoring
– Performance evaluations and scoring
My child is forgetful – how do I claim lost property?
Please label clothing, drinks bottles and lunch boxes. We leave all lost property with the venue so it easy for you to collect.
Can I contact my child?
If you need to contact your child whilst on camp, please call us on 0114 263 2160 and we'll contact the Site Manager directly on your behalf.
What about children from overseas?
We welcome children from outside the UK, however in the name of child welfare, all children must have at least a basic understanding of English in order to understand instructions and to communicate safely with our Red Tops and other children. Información en Español